Your world in 180 or 360-degrees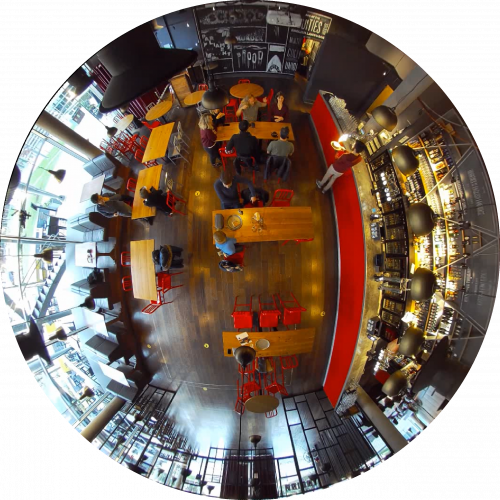 To maximize the benefits of the 360-degree lens, digital manipulation of the native image is required. The process is called "dewarping" and allows for any area of the original warped fisheye to be converted to have the look and feel of a more traditional video stream. A user can then move around the image and look at different parts of it in a more natural and conventional way.
Create Your View With Multi-Mode
With our enhanced Multi-Mode technology, you no longer have to choose between native fisheye and dewarped views. With Multi-Mode, you can maintain all the usual benefits of a 360-degree view, and now create 180 degree Panoramic+ views, 2 and 3-way corridor views and VCams depending on your camera mount orientation.
For example, the 360-degree view can be used for retrospective investigation, while the different dewarped views can be displayed on the screen of a control room for more natural live viewing. The flexibility doesn't end there: you can run streams at different frame rates, deciding which streams to watch or record at which frame rate.
With Multi-Mode, you can choose to stream up to 4 different views simultaneously from the following ones:
Fisheye: the standard 360-degree fisheye view, ideal for total situational awareness.
Panoramic+: a 5:2 pre-dewarped panoramic view ideal for wall-mounted cameras, that uses the center of the fisheye sensor to generate a true 180-degree image.
Corridor+: a split 2-way corridor view from a ceiling mounted camera, allowing you to watch both directions of a 360-image at the same time.
T Corridor+: a 3-way junction view from a ceiling mounted camera, T Corridor+ allows you to see in all three directions at the same time.
VCam: a user defined dewarped view of a specific chosen area of the fisheye image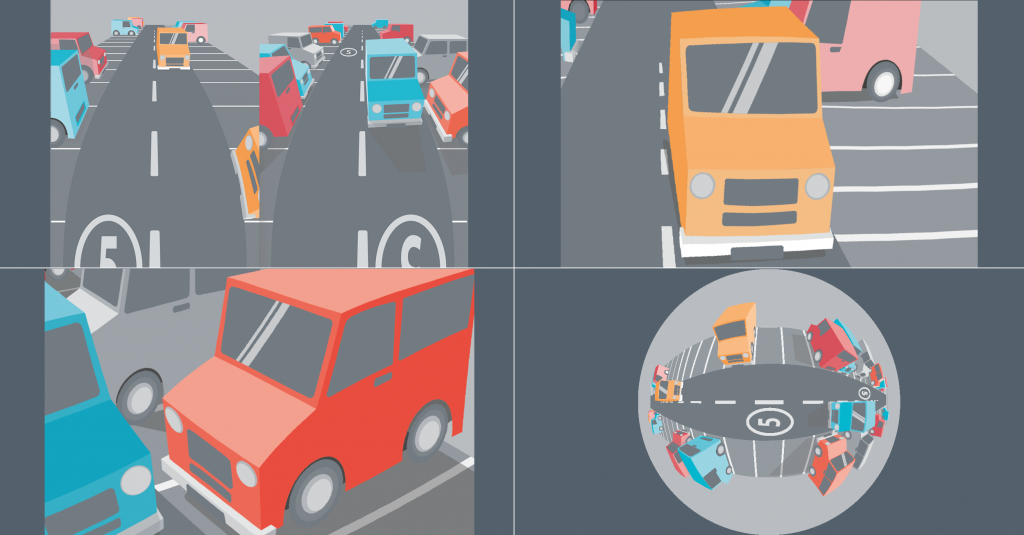 Example of Multi-Mode streaming views.
The C-Series creates ultra wide panoramic views for wall mounted cameras, that uses the center of the fisheye sensor to generate a true 180-degree image. We call these views Panoramic+. Oncam's Angle Compensation Technology (ACT) and Scene Offset can correct the angled view, to provide natural looking images. Panoramic+ accessories make angled installations seamless.
ONVIF is an open industry forum for the development of a global standard for the interface of IP-based physical security products. The ONVIF specification will ensure interoperability between products regardless of manufacturer.
Oncam is proud to be a Contributing Member of the Open Network Video Interface Forum (ONVIF). Our range of 360-degree and wide-angle cameras are all ONVIF Profile S conformant and will integrate with third-party products that comply with the ONVIF specifications for Profile G and S.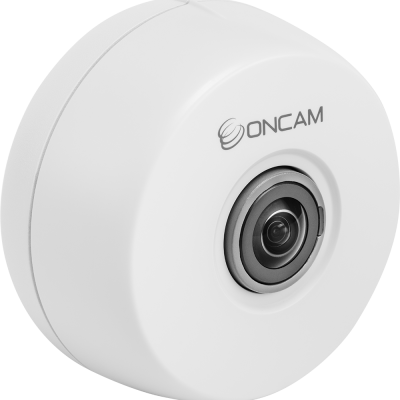 Powerful, compact and very capable. The Oncam C-Series packs a punch. 
If you're looking for a small yet powerful 360-degree fisheye camera the C-Series camera is perfect for you. With 8 and 12MP cameras and market-leading frame rates, the C-Series camera range is perfect to fit discreetly indoors or outdoors.
Prepare to be impressed.